Pueblos Indígenas
Amazon land battle pits indigenous villagers against might of Ecuador state
Only a bridge separates the Shuar village of El Tink from threat of military and mining interests in high-profile dispute resulting in death and displacement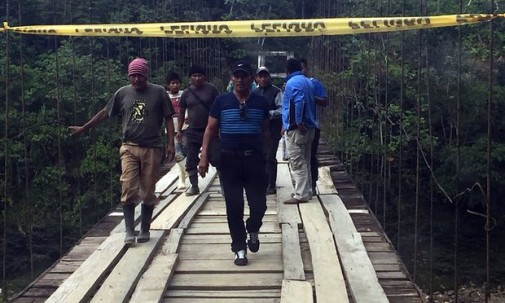 Military drones and police helicopters circle above the Shuar indigenous village of El Tink, an Amazonian community in Ecuador where a high-profile dispute against a Chinese copper mine has become a standoff and a siege.
Aerial surveillance is the only way the authorities can monitor this cloud forest enclave because residents have blocked the sole entrance to their home: a bouncing plank-and-cable bridge suspended 15 metres above the brown torrents of the Zamora river.
Some wear masks to hide their faces. Others appear so casual, they could be out for an afternoon stroll. But together, they take it in shifts to guard the crossing 24 hours a day. Friendly vehicles are allowed through. Government forces are turned back, but the siege is exacting a humanitarian toll on the villagers.
"The river protects us. The military can't cross the bridge because we guard it day and night. If they come, we'll set fire to it," said Alfonso Chinkiun. "But we feel like we are captives. We can't leave this place because we fear we will be arrested. That means we can't work so we have to forage deep into the forest for food. Some days our children go to sleep without eating a single meal."
Chinkiun is one of a few dozen people who recently sought sanctuary in El Tink after a bloody confrontation with security forces sparked by a dispute with a Chinese mining company Explorcobres SA (EXSA), in their previous home of Nankints on the other side of a mountain ridge in the Cordillera del Condor.
They were forced to flee here after a policeman – José Mejía – was killed during a protest on 14 December. Blaming the death on the demonstrators, the authorities declared a state of emergency in the province of Morona Santiago, raided homes and made several arrests, including the president of the Inter-Provincial Federation of Shuar Centers, Agustín Wachapá.
Read more...